Frequently Asked Questions
Our goal is your satisfaction—if you need assistance, please see if there is a FAQ to assist you.
 
If you still require assistance, call the Civic Box Office: 831-420-5260; Tues-Fri 11am-6pm.
 
 
Santa Cruz Tickets Policies & Fees Questions
1. What are your refund and exchange policies? [See Refund Policy for full details]
Check your tickets carefully at time of purchase, there are no refunds on ticket purchases. Please check with the Civic Box Office for specific producer exchange policies. Treat your tickets like cash. Lost or stolen tickets may not be replaced.  Please see event and ticket policies for more detailed event info.
2. Does your website offer secure transactions to prevent fraud?
Santa Cruz Tickets is required to meet a high standard of Payment Card Industry (PCI) compliance. Service charges help cover the cost of routine testing and audits. Our password requirements are mandated by our PCI ranking for your protection. All ticket sales go through a secure server which encrypts all information for your security; we do not retain credit card information within the system.  Should you believe your password has been jeopardized, please reset your password via the forgot password link.
Service Charges
 [For further info see General Policies]
 
1. Can I avoid paying the service charge?
Unfortunately, no; all transactions have a service charge. The service charge is the same if you purchase over the phone or in person.
2. Why do I need to pay a service charge?
The Box Office does not receive any monies from the price of tickets. The service charge covers operational expenses including staffing, ticketing software, security compliance and supplies.
3. What are the service charges?
Ticket price <$10 ($0-$9.99) = $3.50/ ticket
Ticket price <$20 ($10-$19.99) = $4.50/ ticket
Ticket price <$50 ($20-$49.99) = $5.50/ ticket
Ticket price <$100 ($50-$99.00) = $6.50/ ticket
Ticket price <$200 ($100.00-$199.00) = $7.50/ ticket*
*Service charge increases by $2.00/$100 increment thereafter
 **Tickets for some events incur an additional $2 Production Admin Fee charge per ticket which is separate from Santa Cruz Tickets fees.
Seating Chart links on event pages at SantaCruzTickets.com disclose total ticket prices including all service charges.
Ticket prices often increase day of show, so please purchase your tickets early for best availability and price.
Cash, check, Visa and MasterCard accepted at the Santa Cruz Civic Box Office.  Visa and MasterCard are accepted online.
Ticket prices are subject service charges, producer or event administrative fees separate from Santa Cruz Tickets and 5% City Admission tax when applicable.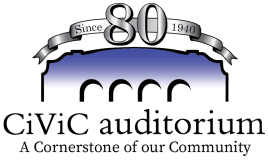 831-420-5260 | Tues-Fri 11am-6pm
307 Church Street | Santa Cruz, CA 95060