2020: A Movie Odyssey! 
Santa Cruz Symphony
Saturday, June 6, 2020 at 7:30pm - 10:00pm at the Civic Auditorium
Take a trip down movie music memory lane with a wide variety of movie music through the ages.  Program will include selections from 2001: A Space Odyssey, Gone with the Wind, Lawrence of Arabia, The Godfather, Pink Panther, James Bond, Batman, and more!
Join us at the Street party before the concert at 6:00 pm in front of the Civic with food and music.

Student Pricing: $10 For students with valid student ID under age 30. Tickets will be available at will call. Student ID required at pickup.
ID required to claim Will Call tickets.
Cameras & recorders are not allowed at Symphony concerts. Please review General Event Policies for exclusions. All sales are final. No refunds. 

Wheelchair Accessible and Accessible Companion seats are available in all price zones in the orchestra floor seating.
Tickets are subject to service charge which is included in the Grand Total in the Shopping Cart (after seats are selected).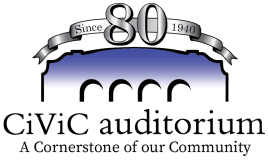 831-420-5260 | Tues-Fri 11am-6pm
307 Church Street | Santa Cruz, CA 95060