The world meets at Cabrillo...
From July 28—August 12, 2018, the Cabrillo Festival will celebrate its 56th season as we welcome back Music Director and Conductor Maestro Cristian Măcelaru and the Cabrillo Festival Orchestra. This season, Măcelaru summons voices from around the globe and across diverse cultural backgrounds to present 18 contemporary works that reflect the human spirit and the stories we tell, the grandeur of the planet, and the vastness of the cosmos. Cabrillo Festival delivers spectacular musicianship, coupled with a warm and welcoming environment for listeners at all levels, plus that famously special Santa Cruz vibe. There are few things more thrilling, and you're invited to join the fun!
So much is new in 2018
New lower subscription price The complete package is now just $350!  (Music in the Mountains is on hiatus). As a Full Subscriber you'll enjoy the complete Festival experience! Click here for 2018 Subscription details
New $20 Youth tickets Invite your favorite young person, and inspire a future Festival fan! (for ages 6-25)
New pay-what-you-can Community Night This new event spotlights our wonderful musicians, and proves just how fun new music can be. Invite friends and make a night of it!
Earlier concert times Our evening concerts now begin at 7pm!
New online early ticket ordering SantaCruzTickets.com can now accept your Advance Ticket Order, donation and payment in one easy online transaction.
ORDER NOW to reserve your seats!
Priority seating deadline is May 31. Full Subscriptions and Advance Single Tickets may be purchased now, just click the preferred link below to start your order! Have questions? Click here for how our ticketing process works.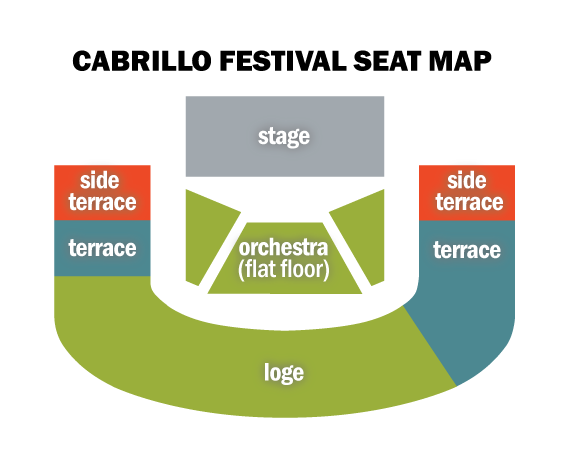 Please note: Priority Seating Deadline is May 31. All events take place at the Civic Auditorium. Programs are subject to change. No children under age six will be admitted to concerts, with the exception of the Free Family Concert. Audio and video recording is not allowed at Cabrillo Festival concerts or rehearsals. Please review General Event Policies for exclusions. All sales are final. No refunds or exchanges.
Seating requests and mobility needs may be specified on the last page of the checkout process.
Wheelchair Accessible and Accessible Companion seats are available for all price zones in the orchestra floor seating.
All service charges, taxes and fees are included in the prices shown.