Joy!
A holiday show with Circus, Dance, and Music
Friday, November 23 at 2:00pm & 7:00pm
Saturday, November 24 at 2:00pm and 7:00pm
Sunday, November 25 at 2:00pm
Friday, November 30 at 7:00pm
Saturday, December 1 at 2:00pm and 7:00pm
Sunday, December 2 at 2:00pm
UCSC Mainstage Theater
Presented by Tandy Beal & Co.
Seating is reserved.
Tickets on sale Monday October 15 @ 4pm
Kick off the holiday season with JOY! , a dazzling extravaganza for the whole family from Tandy Beal & Company. Offering a mix of brilliant visuals, rib-tickling circus comedy, and stunning acrobatics performed by world-class acrobats, dancers, and circus artists, this production stars Cirque du Soleil soloists Jeff Raz and Diane Wasnak, with Candy Land-flavored live music by award-winning a cappella group SoVoSó. Called "Astonishing and gorgeous. The ideal holiday experience!" by the Santa Cruz Sentinel, and "To say it is a hit is an understatement!" by the Mercury News, you won't want to miss JOY! , a zany holiday circus!
Group Discount offered on orders of 10 or more tickets. Contact the Box Office for assistance (831) 420-5260.

Advance sales end the Friday at 4:30pm prior to event.  Any remaining tickets can be purchased at the door.
ID required to claim Will Call tickets. If you choose to have your tickets mailed & you do not receive them, please contact the Civic Box Office prior to the day of show.
 
Babies 2 and under do not need a ticket if held on lap.  Cameras & recorders are not allowed.  Arrive Early - LATE SEATING MAY BE LIMITED. 
No refunds. Exchanges are allowed between performances of Joy!  Exchange fees apply.

Wheelchair Accessible and Accessible Companion seats are available in section 4, row J.
Tickets are subject to service charge which is included in the Grand Total in the Shopping Cart (after seats are selected).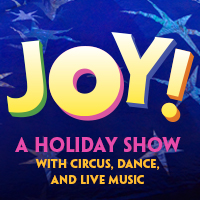 831-420-5260 | Tues-Fri 11am-6pm
307 Church Street | Santa Cruz, CA 95060