Music Of Our Time, For Our Time.
"Cabrillo's music reflects our times…speaks to the urgent issues of now, inspiring, awakening and stretching us."-Monterey County Herald

The 2020 Cabrillo Festival season runs July 26 through August 9 at the Santa Cruz Civic Auditorium. Get all the 2020 program details here, and order your Full Subscription now to join us for the complete musical journey!
FULL SUBSCRIPTION BENEFITS:
Exclusive early ordering from March 10 thru May 15; including Single Ticket add-ons!
Priority access to the best seats in the house, year after year!
Tickets to: four Orchestra Concerts (Jul 31, Aug 1, 8, 9); Meet the Composers/Violins of Hope Talk (Aug 1); Family Concert (Aug 2); Quartet San Francisco in Concert (Aug 2); Community Night Concert (Aug 6)
PLUS Two (2) free 2-for-1 ticket vouchers to share with friends!
NEW THIS YEAR!
Two Subscription seating options:
Premium Loge/Orchestra Full Subscription: $350 
Terrace Full Subscription: $310
Opening Night's
Pre-Concert Dinner
is now an optional add-on,
no longer included
in the subscription package.
Single Tickets will be available to non-subscribers starting June 2.
Priority seating is assigned on a date-received basis until the May 15 deadline. Click here for details on how our ticketing process works.
Wheelchair Accessible and Accessible Companion seats are available for all price zones in the orchestra floor seating.
All service charges, taxes and fees are included in the prices shown.
Specific seating requests and mobility needs may be specified on the last page of the checkout process. Click seat map at right to enlarge view.
Priority seating deadline is May 15. Full Subscriptions and Advance Single Tickets may be purchased now, just click the preferred link below to start your order! Have questions? Click here for how our ticketing process works.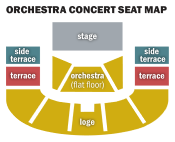 Please note: All events take place at the Civic Auditorium. Programs are subject to change. No children under age six will be admitted to concerts, with the exception of the Free Family Concert. Audio and video recording is not allowed at Cabrillo Festival concerts or rehearsals. Please review General Event Policies for exclusions. All sales are final. No refunds or exchanges.
Order Subscription Tickets: