Upcoming Events

PUBLIC NOTICE:
The Box Office is closed.
If you need a refund/exchange to a cancelled event or need assistance purchasing an upcoming event please email tickets@santacruztickets.com or call 831-420-5262. This email and voice mail will be checked periodically.
Tickets can still be purchased through this website

In consideration of recommendations from Santa Cruz County Public Health and the CDC all City of Santa Cruz Parks and Recreation classes, programs, events will be cancelled through May 8, 2020. During this time we recommend you utilize our world class parks and open spaces while complying with County Social Distancing requirements. The Civic Auditorium will be closed to the public through April 10, 2020. Limited service (including refunds) will be offered via phone 831-420-5262 and email tickets@santacruztickets.com. Please check our website for updates and more information on Parks & Recreation's COVID-19 response - www.cityofsantacruz.com/covid-19.
 
Just Announced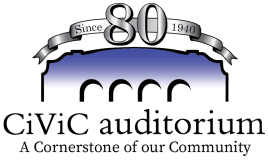 831-420-5260 | Tues-Fri 11am-6pm
307 Church Street | Santa Cruz, CA 95060